Why we want to do the right thing, but do the wrong thing instead – and how to become a better person.
WARUM ES SO SCHWER IST, EIN GUTER MENSCH ZU SEIN
(Why It Is So Hard to Be Good)
by Armin Falk
Siedler Verlag, May 2022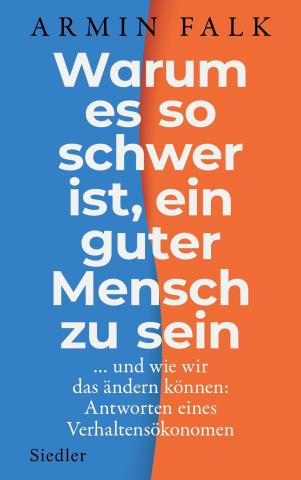 Would you save a life for 100 euros? The answer has to be yes – doesn't everyone want to do the right thing? But Armin Falk, Germany's leading behavioural economist, shows that we often do bad things despite wanting to be good, and are far from being as good as we like to think.
Why is it that we don't do the right thing day in and day out: help others, give to those in need, protect our climate or care for the well-being of animals? Using many concrete examples and the insights he has gained from years of research, the Leibniz Prize-winner reveals under what circumstances people are likely to act morally – or immorally – and the role that personality, gender, education and culture play. Once we have understood this, we'll find it easier to change – not only ourselves, but the very fabric of our economy and society.
Armin Falk, born in 1968, is the director of the Institute for Behavioural Economics and Inequality (BRIQ) and of the Laboratory for Experimental Economic Research, as well as Professor of economics at the University of Bonn. He is one of the world's most highly regarded economic scientists. His work has won him the 2009 Leibniz Prize (the 'German Nobel') and a 2013 Advanced Grant from the European Research Council, the world's highest prize for economists.