A brand-new graphic novel adaptation of the 10 Million Copy bestselling series!
AMBER BROWN IS NOT A CRAYON: THE GRAPIC NOVEL
by Paula Danziger; adapted by Victoria Ying
Penguin Random House, May 2024
(via Writers House)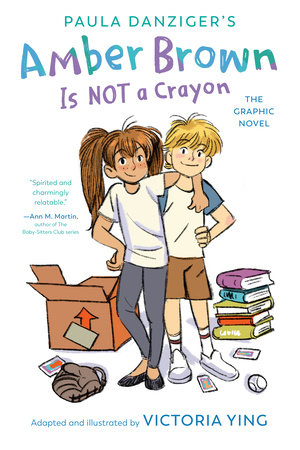 Amber Brown and Justin Daniels are best friends. They've known each other for practically forever, sit next to each other in class, help each other with homework, and always stick up for each other. He never says things like, "Amber Brown is just a crayon." She never says, "You got here 'Justin time.'" They're a great team . . . until disaster strikes. Justin has to move away and now the best friends are fighting. Will they be able to work it out before it's too late?
Now a hit series on Apple TV+!
THE AMBER BROWN SERIES
#1: Amber Brown Is Not a Crayon
#2: You Can't Eat Your Chicken Pox, Amber Brown
#3: Amber Brown Goes Fourth
#4: Amber Brown Wants Extra Credit
#5: Forever Amber Brown
#6: Amber Brown Sees Red
#7: Amber Brown Is Feeling Blue
#8: I, Amber Brown
#9: Amber Brown Is Green With Envy
#10: Amber Brown Is Tickled Pink
#11: Amber Brown Is On The Move
#12: Amber Brown Horses Around
Paula Danziger grew up wanting to be an author . . . and then she became one.  She wrote over 25 books, traveled to more than 15 countries, and was the kind of colorful character you might find in one of her books. She loved to play, make new friends, and wear purple clothes and nail polish. Sadly, Paula Danziger passed away on July 8, 2004. Amber Brown—and the rest of her book characters—will continue to live on.
Raised in California, Victoria Ying is an author and illustrator of beloved children's books. She realized that she had a true eye for detail when she fell in loves with comic books when she was a teenager. This interest in comics led her to a successful career in animation. Her credits include Tangled, Wreck it Ralph, Frozen, Paperman, Big Hero 6, and Moana.