A historic presidential campaign changes the trajectory of a young Black man's life in the highly anticipated debut novel from one of The New Yorker's rising stars.
GREAT EXPECTATIONS
by Vinson Cunningham
Hogarth, March 2024
(via Sterling Lord Lieristic)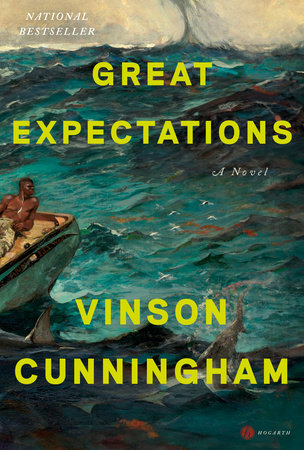 "I'd seen the Senator speak a few times before my life got caught up, however distantly, with his, but the first time I can remember paying real attention was when he delivered the speech announcing his run for the Presidency."
When David first hears the Senator from Illinois speak, he feels deep ambivalence. Intrigued by the Senator's idealistic rhetoric, David also wonders how he'll balance the fervent belief and inevitable compromises it will take to become the United States's first Black president.
GREAT EXPECTATIONS is about David's eighteen months working for the Senator's presidential campaign. Along the way David meets a myriad of people who raise a set of questions—questions of history, art, race, religion, and fatherhood, all of which force David to look at his own life anew and come to terms with his identity as a young Black man and father in America.
Meditating on politics and politicians, religion and preachers, fathers and family, GREAT EXPECTATIONS is both an emotionally resonant coming-of-age story and a rich novel of ideas, and marks the arrival of a major new writer.
"The aptly-titled GREAT EXPECTATIONS announces Vinson Cunningham as a novelist of singular style, wit and ambition. Focused on one young man's experience working on a historic presidential campaign, the novel is both a coming-of-age story for its narrator and—just as powerfully—a coming-of-age tale for the nation writ large. Cunningham has an uncanny ability to access the thoughts undergirding our thoughts, and his narrator is one that readers will wish they could keep by their sides to make sense of the world after the book's final pages. Read GREAT EXPECTATIONS and see our recent past, our present, and even our future anew." —Angela Flournoy, author of The Turner House, finalist for the National Book Award
Vinson Cunningham is a staff writer and a theatre critic at The New Yorker. His essays, reviews, and profiles have appeared in The New York Times Magazine, The New York Times Book Review, FADER, Vulture, The Awl, and McSweeney's Internet Tendency. A former staffer on Barack Obama's first presidential campaign and in his White House, Cunningham has taught at Sarah Lawrence College, the Yale School of Art, and Columbia University's School of the Arts. He lives in New York City. GREAT EXPECTATIONS is his first novel.