The New York Times bestselling author of Dark & Shallow Lies  delivers another chilling supernatural thriller filled with murder, romance, and a decades long mystery that haunts a small Florida town.
ONE LAST BREATH
by Ginny Myers Sain
Razorbill/Penguin Random House, March 2024
(via Park & Fine)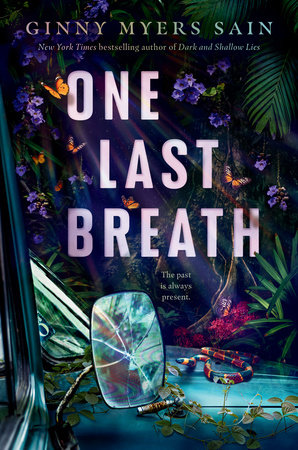 True love never dies. It just stays buried.
Mount Orange, Florida, is famous for two things: Cerulean freshwater springs, perfect for free divers who aren't afraid of lurking gator, and the gruesome cold case murder of best friends, Bailey and Celeste, twenty years ago.
The spectre of Bailey and Celeste's murders cast a permanent darkness over sunny Mount Orange. Tru has always lived in that shadow. Sometimes, it seems like she knows the long-dead Bailey, feels the dead girl in her bones. Now she's supposed to head to FSU in the fall with her boyfriend, but those unsolved murders — and the death of her own sister — invade her every thought. It's only in the shadowy deep, 100 feet below the surface of Hidden Glen Springs, that she can breathe.
When Rio, a strange girl, rolls into town, hell-bent on figuring out who killed Bailey and Celeste, Tru can't resist entangling herself in the thrill of solving the decades old mystery any more than she can resist her familiar, aching attraction to Rio.
As the summer heat ignites, so does the spark between Tru and Rio…along with their other-worldy connection to Bailey and Celeste. But when someone begins stalking them, the girls become convinced the killer is back in town. And if they keep digging into the past, Tru and Rio know this time, it could be their blood that makes the springs run red.
Ginny Myers Sain lives in Tulsa, Oklahoma, and has spent the past twenty years working closely with teens as a director and acting instructor in a program designed for high school students seriously intent on pursuing a career in the professional theatre. Having grown up in deeply rural America, she is interested in telling stories about resilient kids who come of age in remote settings.