One of the final projects of the legendary Stan Lee and beautifully illustrated by Spider-Man veteran Andie Tong, about an ordinary high school student who is recruited by a mysterious hacktavist group and discovers a dark secret from his police detective father's past that could change their relationship forever.
BACKCHANNEL vol. 1
by Stan Lee, Tom Akel & Andie Tong
Rocketship Entertainment, March 2023
(via JABberwocky)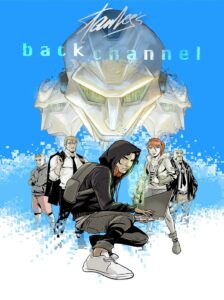 While developing a highly sophisticated AI algorithm, a power awakens within Tom that grants him the ability to mentally hack into any device (technopathy). While initially using this newfound power for personal gain and petty revenge, he learns of a dark secret from his father's past that will change him forever.
In need of a moment of escapism, Tom returns to his favorite digital comics. This time though, the comic is disturbingly on point with what Tom has been experiencing. As he continues to read, Tom realizes that there are encrypted messages in the comic from an unknown ally who clearly knows everything Tom has been up to.
When he discovers that the hacktivist group BACKCHANNEL has been tracking him and is aware of his new abilities and reaching out to him for help, Tom is set on a very dangerous path.
Stan Lee was a successful writer and editor, known to millions of fans world-wide as the co-creator of beloved superheroes like Spider-Man, Iron Man, X-Men, The Fantastic Four, and countless more that propelled Marvel to its preeminent position in the comic book industry. Most recently, Stan was the Chairman and Chief Creative Officer of Stan Lee's POW! Entertainment, which he founded with Gill Champion. For nearly two decades, POW! has brought Stan's original characters and stories to television, feature films, and publishing for audiences around the globe. POW! continues to perpetuate Stan's legacy by sharing his new creations and celebrating the impact he has had on popular culture worldwide.
Tom Akel is the co-writer of Stan Lee's BACKCHANNEL and the CEO & Publisher of Rocketship Entertainment – a publishing, consumer product, and entertainment company with multiple Eisner-nominated and Ringo Award-winning series. Prior to Rocketship, Tom led the U.S. expansion of Webtoon where he oversaw a portfolio of over 150 titles while developing key partnerships while, an an editor, winning back to back Ringo Awards for Best Webcomic for Dean Haspiel's The Red Hook and Sanford Greene's 1000, as well as an Eisner nomination for Ryan Benjamin's Brothers Bond. He previously served as Executive Producer and Executive Editor of MTV Digital, responsible for 360 digital extensions of 175 seasons of MTV shows ranging from Teen Wolf to Jersey Shore, and while there founded MTV Geek and MTV Comics. Tom holds an MFA in Design + Technology from Parsons School of Design in New York and resides in Los Angeles, CA.
Andie Tong is a Malaysian comic artist who currently resides in Singapore. His past titles include Tekken, Green Lantern Legacy, Spectacular Spider-Man UK, Star Wars, The Batman Strikes!, and Tron: Betrayal. Since 2005, Andie has worked with companies including Disney, Lucasarts, Marvel, DC and Darkhorse. Outside of comics, he has done commercial work for DC, Nike, Mforma, Universal, CBS, Mattel, Hasbro and illustrations for Whitewolf's fantasy gaming books. In 2013, Andie illustrated the New York Times bestselling Disney series The Zodiac Legacy created by the late Stan Lee and written by Stuart Moore.