A hilarious book from one of the funniest current voices in parenting, dark British humor meets Go the F**k to Sleep.
CRY WHEN THE BABY CRIES
by Becky Barnicoat
Gallery, Spring 2025
(via Levine Greenberg Rostan)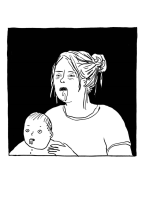 This book will be the perfect comfort food for new parents, the baby shower gift given by your wisest friend. Part graphic memoir and part standalone comics highlighting important childhood moments, CRY WHEN THE BABY CRIES guides parents from birth to age five. As Becky writes, "Think of this as the book equivalent to the best parenting Whatsapp group, the one where you can share your weirdest stuff and find out the other person did something worse."
Becky Barnicoat has worked in media for almost 20 years. She was an editor at The Guardian for nine years, a writer-illustrator at Buzzfeed for two years, and has spent three years as a New Yorker contributor. She has also drawn for Cup of Jo, New York magazine, and has a regular parenting cartoon in Grazia magazine.