In this pulse pounding thriller, Izzy and her family welcome an exchange student into their home. But after a series of mishaps and coincidences, and with a serial killer on the loose, Izzy begins to suspect the young man is not who he seems.
FOUR LETTER WORD
by Gretchen McNeil
Disney Hyperion, March 2024
(via Kaplan/DeFiore Rights)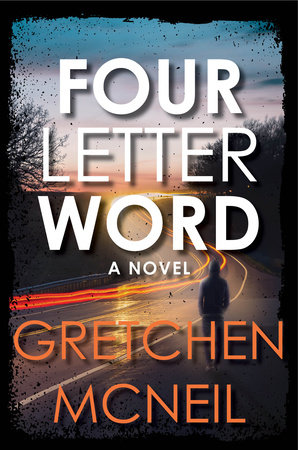 For most of her life, Izzy has been looking forward to fulfilling her mother's dream of studying abroad in Italy. Going into her senior year, Izzy is counting down the days until she can leave her humdrum life behind, until Alberto, a handsome and mysterious Italian exchange student shows up for his stay with her family. Now life in her hometown doesn't seem so drab, as Izzy, and everyone else, is immediately charmed by Alberto and his irresistible accent.
But something about Alberto isn't quite…right. As an avid true crime fan, Izzy has been following a serial killer case in San Francisco and the murderer, whose description bears a passing resemblance to the Italian exchange student living in her house, seems to have made his way north. As Izzy pays closer attention to Alberto—his actions, his temper—she finds more and more holes in his story that he has trouble explaining away.
When a local girl is murdered, Izzy thinks Alberto might not be who he seems. Worse, a series of "accidents" seem to target Izzy herself. In a race against the clock, Izzy must convince anyone that Alberto could be a notorious killer before another girl ends up dead.
Gretchen McNeil is the author of #NoEscape, I'm Not Your Manic Pixie Dream Girl, Possess, 3:59, Relic, and Ten which was adapted as the Lifetime original movie Ten: Murder Island in 2017, as well as Get Even and Get Dirty, adapted as the series Get Even which is streaming worldwide on BBC iPlayer and Netflix.