Striking the perfect balance between wry humour and heartache, this new teen novel tackles choppy friendships, family dramas, and life-changing diagnoses, with a little bit of telenovela flair woven in.
CHRONICALLY DOLORES
by Maya van Wagenen
Dutton, March 2024
(via Writers House)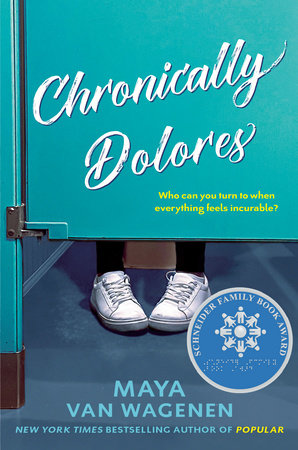 Nothing has been the same for fourteen-year-old Dolores Mendoza since everything started changing at the end of middle school. Newly diagnosed with interstitial cystitis, Dolores had a humiliating accident in class that earned her the nickname "whiz kid." Even worse, she's losing her lifelong BFF, Shae, who's suddenly ignoring Dolores to hang out with the cool girls. Dolores is alone, and confused. What did she do wrong?
Now her mom is forcing Dolores to go to a "communication workshop for girls." There, Dolores makes a tentative connection with Terpsichore Berkenbosch-Jones. Terpsichore, who is home-schooled and neurodiverse, makes a deal with Dolores: Pretend to be her friend so Terpsichore can convince her overprotective mother to let her go to public school, and in return Terpsichore will help Dolores get Shae back. Eventually, their friendship of convenience will start to transform both Dolores and Terpsichore and redefine the ways both girls understand friendships old and new.
Dolores's funny and bittersweet coming-of-age friendship story is punctuated by her wry reviews of every bathroom in town (which she comes to know very well thanks to her IC) and hilariously over-dramatized flashbacks as Dolores rewrites traumatic experiences as if she's the star of a telenovela.
Maya van Wagenen is the author of the New York Times bestselling memoir Popular: Vintage Wisdom for a Modern Geek, which was published to huge acclaim when she was just fifteen (press and praise roundup below!). CHRONICALLY DOLORES is her fiction debut.