Two Pulitzer Prize-winning journalists tell the riveting true story of Marie, a teenager who was charged with lying about having been raped, and the detectives who followed a winding path to arrive at the truth
A FALSE REPORT
A True Story of Rape in America
by T. Christian Miller and Ken Armstrong
Crown, February 2018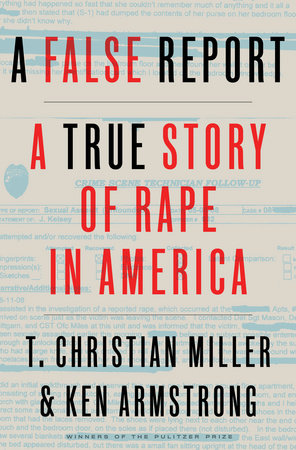 On August 11, 2008, eighteen-year-old Marie reported that a masked man broke into her apartment near Seattle, Washington, and raped her. Within days police and even those closest to Marie became suspicious of her story: details of the crime didn't seem plausible and her foster mother thought she sounded as though she were reciting a Law & Order episode. The police swiftly pivoted and began investigating Marie. Confronted with inconsistencies in her story and the doubts of others, Marie broke down and said her story was a lie—a bid for attention. Police charged Marie with false reporting. One of Marie's best friends created a web page branding her a liar.
More than two years later, Colorado detective Stacy Galbraith was assigned to investigate a case of sexual assault. Describing the crime to her husband that night—the attacker's calm and practiced demeanor, which led the victim to surmise "he's done this before"—Galbraith learned that the case bore an eerie resemblance to a rape that had taken place months earlier in a nearby town. She joined forces with the detective on that case, Edna Hendershot, and the two soon realized they were dealing with a serial rapist: a man who photographed his victims, threatening to release the images online, and whose calculated steps to erase all physical evidence suggested he might be a soldier or a cop. Through meticulous police work the detectives would eventually connect the rapist to other attacks in Colorado—and beyond.
Based on investigative files and extensive interviews with the principals, A FALSE REPORT is a serpentine tale of doubt, lies, and a hunt for justice, unveiling the disturbing reality of how sexual assault is investigated today—and the long history of skepticism toward rape victims.
T. Christian Miller joined ProPublica as a senior reporter in 2008. Before that, he worked for the Los Angeles Times, where he covered politics, wars, and was once kidnapped by leftist guerrillas in Colombia. His first book, Blood Money: Wasted Billions, Lost Lives, and Corporate Greed In Iraq was called one of the "indispensable" books on the war. He teaches data journalism at the University of California at Berkeley and was a Knight Fellow at Stanford University.
Ken Armstrong, who joined ProPublica in 2017, previously worked at The Marshall Project and Chicago Tribune, where his work helped prompt the Illinois governor to suspend executions and empty death row. His first book, Scoreboard, Baby, with Nick Perry, won the Edgar Allan Poe Award for non-fiction. He has been the McGraw Professor of Writing at Princeton and a Nieman Fellow at Harvard.
They have both won numerous awards, including a 2016 Pulitzer Prize for their article « An Unbelievable Story of Rape, » written for ProPublica and The Marshall Project.