The first in a new middle-grade graphic novel series, featuring over-the-top action and excitement—and a superpower all kids dream of having.
HELLAWEEN
by Moss Lawton
Razorbill/ Penguin Young Readers, August 2023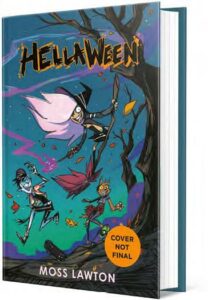 Learning to become a witch can be difficult. Luckily, Gwen has Sloane (a werewolf) and Miles (a vampire). Except they're not from this world… they're from the Hallowlands, a realm with monsters. With the help of a new wand and a grimoire, Gwen's hoping her friends will see that she's ready to return with them to the Hallowlands. But Gwen hadn't counted on running into Hiro, a local kid who's just a little too obsessed with monster-hunting, and his mission to rid his town of evil.
Moss Lawton is a combination Dracula/Storyboard and Comic artist from the Bay Area, based in Los Angeles. Since graduating from San Jose State they have worked at major studios such as Netflix, Nickelodeon, Cartoon Network, Warner Animation Group, Disney TV and Dreamworks TV. Moss has also worked on projects such as Monsters at Work, Trollhunters: Rise of the Titans and LEGO Movie 2.