A snake, an octopus and the near death of Johnny Ramone. The almost true account of the 1977 New York City blackout.
NEW YORK CITY GLOW: A Long Comic
by Rachel Coad
Upswell Publishing/ Black Inc., July 2023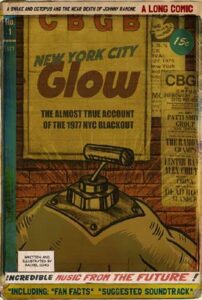 Set in the 1970s, the story's capstone is the 1977 New York City blackout. Ray the snake is a sad, lonely, middle aged insurance salesman from Midway Kentucky, looking for a better life. Strawberry is a Glow Octopus (Stauroteuthis syrtensis) with an inability to control her glow. Strawberry finds herself in constant trouble; she has a prison record and an FBI file to prove it.
The unlikely pair embark on a road trip to New York City, where they rub shoulders with rock royalty, things get electric – in more ways than one.
A tribute to all kinds of music, from elevator to opera.
In a painting career spanning 20 years, Rachel Coad has exhibited in both Australia and the UK. In 2016 she was awarded The Lester Prize for portraiture. A former newspaper artist and designer, this is Rachel's first graphic novel. Or as she likes to call it: 'A long comic'.