A stunning picture book that celebrates gardens and inclusion from an award-winning talent.
WILDFLOWER
by Melanie Brown
illustrated by Sara Gillingham
Greystone, May 2022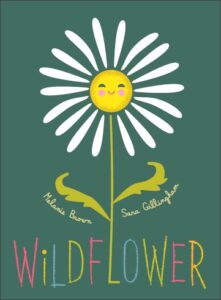 Daisy is new to the garden and just opening her petals to the sun when Rose tells her that she's just a weed. What's a weed? Rose explains that weeds aren't planted on purpose and only get in the way. As Daisy compares herself to other plants in the garden, she begins to feel even worse: she isn't tall like Sunflower, nor sweet like Strawberry, nor fragrant like Rose. Just as Daisy worries that Rose might be right—that she is a weed after all—a strange and beautiful plant offers a new perspective. Maybe Daisy does have a purpose! And why do others get to decide who she is? This sweet and empowering story shows the inner strength it can take to define ourselves on our own terms, and how supporting one another can help us grow.
Melanie Brown has worked as both an elementary school teacher and an interior designer, and she lives in Vancouver with her family and a sweet silver Labrador retriever named Rosie. WILDFLOWER is her first book.
Sara Gillingham is an award-winning children's book author and illustrator, art director, and designer who has helped publish many bestselling books. Sara has written and illustrated more than twenty-five titles for children, including How to Grow a Friend, Snuggle the Baby, the Empowerment series, and the bestselling In My series. She lives in Vancouver with her family.