Written in the tradition of I Am Malala and based on the Oscar-nominated documentary The Cave, this searing memoir tells the inspiring story of a young doctor and activist who ran an underground hospital in Damascus, illuminating and humanizing the enduring crisis in Syria.
THE CAVE
A Secret Underground Hospital and One Woman's Story of Survival in Syria
by Amani Ballour, M.D.
National Geographic, March 2024
(via Kaplan/DeFiore)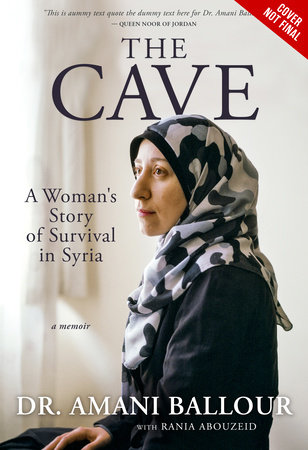 Simply put, there is no one in Syria with a story like Dr. Amani Ballour. The only woman to have ever run a wartime hospital, she saved her peers from the atrocities of war while contending with the patriarchal conservatism around her.
Growing up in Assad's Syria, Dr. Ballour knew she wanted to be more than a housewife, even as her siblings were married off in their teens. As the revolution unfolded, she volunteered at a local clinic and was immediately thrown into the deep end of emergency medicine. Here, she found her voice and the courage to continue.
Among the facets of this powerful tale: Becoming a hospital director. Shielding children from a horrific sarin attack. Losing colleagues. Starvation during the hospital siege. Attempting to employ more women in the hospital and challenging the patriarchy. Abandoning the hospital. Becoming a refugee. Living with trauma. Moving forward.
Amani Ballour is a role model and a game changer who, like Malala Yousafzai, will be remembered as one of history's great heroines. She is an incredibly brave, passionately committed young humanitarian who, though deeply wounded by her experiences, is not content to quietly deal with her own trauma. Instead, Ballour is determined to seek justice and to do her utmost to ensure that others will not have to face the horrors that she survived.
Amani Ballour graduated from the University of Damascus in 2012. She began her pediatrics specialization before abandoning her studies to help the people of her hometown, under attack from the Assad regime, in an underground medical facility known as The Cave. In 2018, as Assad's forces closed in, Ballour was forcibly displaced to northern Syria before settling in the United States with her husband in 2021. She is the recipient of the Council of Europe's prestigious Raoul Wallenberg Prize. She lives in Patterson, New Jersey.
Rania Abouzeid is a multi-award-winning Lebanese-Australian journalist who has reported from across the Middle East for some two decades. Her work has appeared in The New Yorker, Time magazine, National Geographic, and other outlets. She lives in Beirut, Lebanon.