A brother and sister travel the world helping to save endangered species in this new commercial middle-grade series.
THE WILDES: THE AMAZON (Book 1)
by Roland Smith
Sleeping Bear Press, March 2023
(via Sterling Lord Literistic)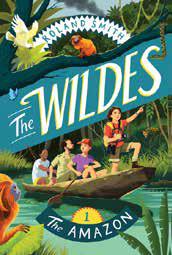 Ring and Asia Wilde's life is anything but ordinary. Some of their closest friends are endangered monkeys and rare birds. Instead of attending middle school, they accompany their parents (scientists who work to save endangered species) on adventures around the world. They spend more time climbing trees, tracking animal prints, and taking on three-hundred-pound anacondas than they do filling out worksheets. But a research trip to the Amazon rainforest turns into a dangerous mystery when their mother goes missing. Who kidnapped Dr. Jane Wilde, and why? Ring and Asia have the skills to survive the jungle–but do they have what it takes to rescue their mom?
New York Times Bestselling author Roland Smith is a former Zoo Curator and Research Biologist. He has published more than twenty novels for young adults. He and his wife, Marie, who is also an author, live on a small farm near Portland, Oregon.