An unforgettable alternative history fairy-tale trilogy from the author of The Bone Witch, about found family, modern-day magic, and finding the place you belong.
'A HUNDRED NAMES FOR MAGIC' SERIES
by Rin Chupeco
Sourcebooks Fire, 2020 – 2023
Book 1: WICKED AS YOU WISH (March 2020)
What if every story you'd ever heard was true? Jack killed the giants. Red slayed the wolf. Rapunzel fled the tower. But the greatest one of all, had yet to be told. Once upon a time, the magical Kingdom of Avalon was left to wither and die after the Snow Queen encased it in ice. Its former citizens are now refugees. Which is why crown prince Alex and his protectors are stuck in… Arizona.
Tala Makiling has lived her life as an outsider. Her family curse, the one that's doomed her to be a spellbreaker, someone who destroys magic, hasn't won her too many friends. Except Alex, who trusts her and her family to keep his royal identity a secret.
And then one night, a famous creature of legend, the Firebird, appears in their tiny town, reigniting hope for their abandoned homeland. Alex and Tala team up with a ragtag group of new friends to journey back to Avalon. Their path is filled with danger—from deadly prophecies, to terrifying ice wolves, a traitor among them, and the Snow Queen herself. But if they succeed… their story would be legendary.
Book 2: AN UNRELIABLE MAGIC (May 2022)
It's been six months since the lost city of Avalon was thawed and retaken. And Alex is doing his best to be a good leader, even though he's not entirely sure what he's doing. He needs all the help he can get, which is why his best friend, Tala, is by his side. Unfortunately, when the Nameless Sword in the stone appears suddenly in the castle courtyard, it brings a new set of problems. Avalon custom dictates that anyone is free to try to pull it out, attracting people from all walks of life and leaving the kingdom vulnerable to attack.
Attempts to infiltrate Avalon begin in the form of mysterious portals that start appearing without warning bringing nightwalkers, ice maidens, and even a surly dragon.
When the Snow Queen comes out of the woodwork with an unlikely ally and attempts to open a portal to the legendary Buyan, a long-lost country whose life-giving waters could make her even more powerful, Alex, Tala, and their friends will have to work together to stop her, even after their biggest betrayal leaves them broken.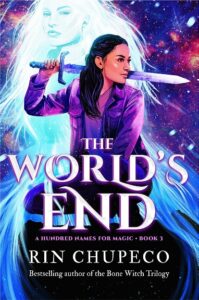 Book 3: THE WORLD'S END (November 2023)
It's been three months since the Snow Queen and OzCorp infiltrated Maidenkeep and nearly seized the Nine Maidens. Ryker is still unconscious after the Snow Queen attacked him and is being monitored at the hospital. Abigail Fey's curse has far-reaching consequences, and many in the Royal States have been using it to stir unrest and hostilities against Avalon.
When the Adarna, a firebird-like creature, appears in Avalon, the gang discovers it is one of seven magical artifacts that the Snow Queen has been searching for, in her bid to open a portal to Buyan. Determined to find the artifacts first, the Bandersnatchers find information about the other five artifacts: the Lotus Lantern in China, the tamatabeko in Japan, the Pied Piper's Flute and the Singing Bone in Germany, and the raskovnik at World's End, the site where Peter Pan and Captain Hook had fought and had destroyed. The final relic is a portal somewhere inside Wonderland. But the Snow Queen will stop at nothing to get to the relics first. And when one of their own is killed in the fight, it takes everything they have to continue the fight to save Avalon once and for all.
Despite uncanny resemblances to Japanese revenants, Rin Chupeco has always maintained their sense of humor. Raised in Manila, Philippines, they keep four pets: a dog, two birds, and a husband. They've been a technical writer and a travel blogger but now make things up for a living. They are the author of The Girl from the Well, The Suffering, The Bone Witch trilogy, and the A Hundred Names for Magic trilogy.