HERITAGE OF CYADOR, le dix-huitième titre de la Saga de Recluce, la série de fantasy culte écrite par L. E. Modesitt, Jr., sortira en novembre chez Tor Books.
HERITAGE OF CYADOR est la suite directe de CYADOR'S HEIR, publié en mai 2014 aux US. Voici un extrait de la critique que RT Book Reviews lui a consacrée : "Modesitt is known for the incredibly detailed worlds he builds, and the ability to take those worlds through generations to show the growth and development of his characters. Cyador's Heirs does not disappoint, building on the stories of the grandchildren of the great matriarch in the Recluse saga from childhood to early adulthood. Lerial is a fully realized character who is highly sympathetic to the reader, and has a depth of thought and maturity that will be immediately recognizable to Modesitt fans."
Vous pouvez télécharger ici une présentation en PDF des ouvrages de L. E. Modesitt, Jr..
The new novel in the bestselling epic fantasy series, Saga of Recluce, and the direct sequel to CYADOR'S HEIR

HERITAGE OF CYADOR
by L. E. Modesitt Jr.
Tor Books, November 2014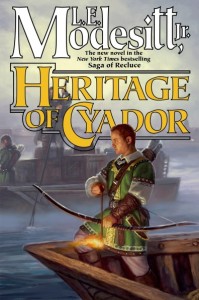 Scarcely a year after the events of Cyador's Heirs, Lerial uses his mastery of Order and Chaos, the competing natural forces that shape his world and define the magic that exists within it, to utterly destroy an Afritan military force crossing into Cigoerne.
Five years later, Lerial, now an overcaptain and a field commander of Cigoerne's Mirror Lancers, must lead three companies of troops into Afrit on a mission of mutual interest: neighboring Heldya is threatening to invade Afrit, and if that nation falls, Cigoerne is certain to be next.
The mission is both delicate and dangerous; Lerial's value in the effort to repelling Heldya is undeniable, but his troubled history against Afrit may reopen old wounds that will never truly heal.