'A melancholic and haunting meditation on postcolonial guilt

                                                                           ATTRACTION
                                                                                By Ruby Porter
                                                                                                                    Text publishingr, May 2019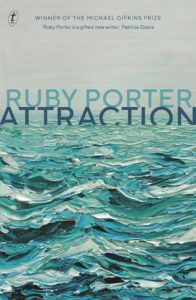 In lyrical fragments, Ruby Porter explores what it means to be and to belong, to create and to destroy.
ATTRACTION is a meditative novel of connection, inheritance and the stories we tell ourselves.
Three women are on a road trip, navigating the motorways of the North Island of New Zealand, their relationships with one another, and the country's colonial history. Our narrator doesn't know where she stands with Ilana, her not-quite girlfriend. She has a complex history with her best friend, Ashi. She's haunted by the memory of her emotionally abusive ex-boyfriend. And her period is late. Ruby Porter was born in 1993 and is a tutor of creative writing at the University of Auckland. She has been published in Geometry Journal, Aotearotica, Spinoff and Wireless, and a selection of her poetry is available on NZEPC. In 2018                                                                   she  won the Wallace Foundation Short Fiction Contest.