Jane Fonda's next book focuses on the climate crisis and her Fire Drill Friday weekly demonstrations in Washington D.C.
FIRE DRILL FRIDAYS:
Bold Moves for a Burning Planet
by Jane Fonda
Penguin Press, July 2021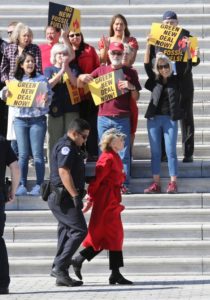 Since October 11th, Jane Fonda has been leading weekly Friday protests in Washington D.C. in her now iconic red coat, heeding the urgent call of young activists like Greta Thunberg to take fighting climate change to the streets. She and the Friday actions have gotten so much media attention, in part because of Jane's unyielding commitment in the form of civil disobedience, in which other celebrities and growing crowds of activists have been inspired to participate.
In the book, she writes of her awakening from an environmentally responsible lifestyle to an urgent need to engage in global activism as she hikes in Big Sur. With urgency as well as her signature humanity and humor, Jane will take readers with her as she leaves her comfort zone, bonds with activists young and old, experiences each week's actions, is arrested and spends time in jail. In addition, she will write about how she learns from experts before the events—activists and scientists—about everything from stopping fossil fuel production to the impact on health and women. As she says, so many of us feel overwhelmed; we need to connect the dots to better understand what needs to be done.