This high stakes, pacey reimagining of Little Red Riding Hood is perfect for fans of Stephanie Garber and Megan Spooner.
RED WOLF
by Rachel Vincent
HarperTeen, June 2021
Ages 14 +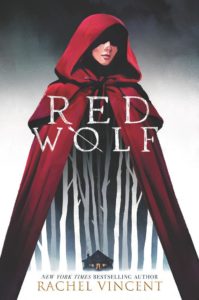 For as long as sixteen-year-old Adele can remember the village of Oakvale has been surrounding by the dark woods—a forest filled with terrible monsters that light cannot penetrate. Like every person who grows up in Oakvale she has been told to steer clear of the woods unless absolutely necessary. But unlike her neighbors in Oakvale, Adele has a very good reason for going into the woods. Adele is one of a long line of guardians, women who are able to change into wolves and who are tasked with the job of protecting their village while never letting any of the villagers know of their existence. But when following her calling means abandoning the person she loves, the future she imagined for herself, and her values she must decide how far she is willing to go to keep her neighbors safe.
Rachel Vincent is the New York Times bestselling author of several pulse-pounding series for teens and adults, including Shifters and Menagerie. A former English teacher and champion of the serial comma, Rachel hopes to spend the rest of her life with her fingers on the keyboard and her head in the clouds. She lives with her husband and two children in Oklahoma.