An epic YA fantasy about family, revenge, and forgiveness, inspired by Chinese mythology and folktales.
JADE FIRE GOLD
by June Tan
HarperTeen, October 2021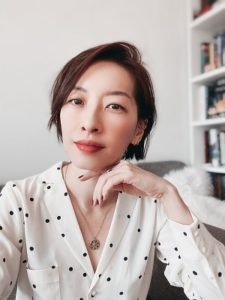 In a desert outpost of the turbulent Shi Empire, Ahn lives as a dishwasher and thief. When her magic finally manifests, she becomes the most powerful weapon in the empire, but also a target of the ruthless priests loyal to the Dragon Throne. Instead of being burnt at the stake, Ahn is saved by a mysterious priest and taken to the Imperial Palace where everyone seeks to use her powers for themselves. Meanwhile, his own family murdered and his birthright hijacked, Altan must find this new powerful girl who will be the tool for his vengeance. Altan and Ahn begin an uneasy alliance but soon, the truth and depth of Ahn's dark powers make them both question whether they'll be able to survive the journey, let alone restore the empire.
June Tan writes science fiction and fantasy inspired by her childhood in Singapore. She has an MA in Cinema Studies from NYU.