Is it possible to fall in love with someone's words? A concealed notebook sparks off a major love story!
FÜR IMMER UND EIN WORT
(For Ever and A Word)
by Anne Sanders
Blanvalet/PRH Germany, August 2021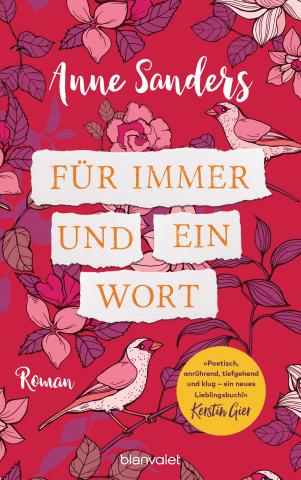 Bookworm Annie's world has always been shaped by words. But her dream of writing a novel is long forgotten, and the man with whom she was supposed to spend the rest of her life has said 'I do' to someone else. She is devastated, and her friend persuades her to spend a few days in a hotel on Dartmoor to forget those painful events. One day, Annie stumbles across something very special: a notebook hidden in a red letterbox. Annie is deeply touched by what she reads in it, and when two pages that have been stuck together reveal the author's address, she decides to track him down. Little does she suspect that her search will lead her to taciturn Jack, who is nothing like what she'd imagined the notebook's author to be – but who nevertheless gets under her skin …
Anne Sanders works as an author and journalist. Under another name, she has already published bestselling novels for young adults. Summer in St. Ives stormed the hearts of readers and was in the Spiegel bestselling charts for weeks. My Heart is an Island and Summerhouse to Happiness were also successful.