Wherever there is injustice, nefarious plots, or threats to society, the Sheep, the Rooster, and the Duck are there to stop them! A sly villain with a plan to cause havoc across the globe is no match for three extraordinary animals—and their two young human friends. From acclaimed author and artist Matt Phelan, a hilarious, action-packed, and highly illustrated middle-grade adventure perfect for fans of Skunk and Badger and Flora & Ulysses.
THE SHEEP, THE ROOSTER, AND THE DUCK
by Matt Phelan
Greenwillow Books, March 2022
(via Writers House)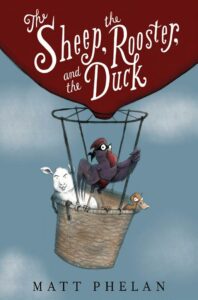 The very first passengers to ride in a hot air balloon were a sheep, a rooster, and a duck in 1783. And while hot air balloons are indeed wondrous, ten-year-old Emile is too busy being the fastidious caretaker of ambassador Benjamin Franklin's château in Paris to think much about them. But forces both good and nefarious are after the wonderful—and sometimes dangerous—inventions in Franklin's notebook. Soon, young Emile finds himself right in the middle of a sinister plot. And right in the middle of the secret headquarters for France's undercover heroes—the same sheep, rooster, and duck that piloted the first hot air balloon. If Emile can muster his courage and be bold, he may be the key to helping the heroes save both Benjamin Franklin and the world. 
A highly illustrated adventure full of secrets, hijinks, and reimagined historical events. This rip-roaring and surprising story is ideal for reluctant readers, aspiring heroes, and fans of Peter Brown's The Wild Robot.

"This amusing, fast-paced tale of land, sky, and spies will easily draw in reluctant readers." —Publishers Weekly (starred review)
"Incredibly creative and equally silly, mixing historical figures and locations with offbeat humor and adventure. . . A little bit of history, a touch of mystery, and heaps of fun." —Booklist (starred review)
"A grand, giddy, and, at times, literally soaring tale." —Kirkus (starred review)
Matt Phelan is the author and artist of the picture books Pignic and Druthers, as well as the acclaimed middle-grade novel Knights vs. Dinosaurs and its two sequels, Knights vs. Monsters and Knights vs. the End (of Everything). He has also written and illustrated several award-winning and best-selling middle-grade graphic novels: Snow White, The Storm in the Barn, Bluffton, and Around the World. Matt Phelan lives with his family in Pennsylvania.