This chillingly hilarious illustrated middle-grade series is Goosebumps meets Sideways Stories!
THE TERRIBLES: WELCOME TO STUBTOE ELEMENTARY
by Travis Nichols
Random House, Summer 2022
(via Writers House)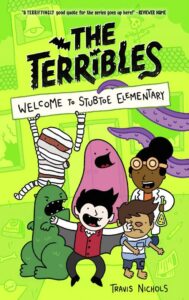 Meet the Terribles! They're your friendly neighborhood vampires, ghosts, werewolves, and mummies! They go to school, do homework, play hide-and-creep, start a band with an alien from outer space, and bring monsters to life with a bit of lightning. Ya know, the usual stuff. Basically, the Terribles are completely normal kids, just like YOU! Well, sort of. In the first book, we get to know a monstrous class at Stubtoe Elementary as they prepare for the coronation (read: fancy birthday party) of Emma (Emmanatenkhamen XIII). She's a kid mummy. You'll also meet Vlad, a vampire who schemes to see the sun, and Griff, a boy who's shy, not to mention invisible. There's a kid kaiju, a young (mad) scientist, and a horde more!
Travis Nichols is the author and illustrator of books and comics for kids and post-kids, including Maze Quest, Betty's Burgled Bakery, Fowl Play, Skedaddle, Masterpiece Sketchbook, Monsters After Hours, and Monstrous Fun. He's written and illustrated comics for SpongeBob SquarePants, Uglydoll, Nickelodeon Magazine (RIP), and Hello Kitty.