For fans of the HBO hit series Succession.
THE OPPORTUNIST
by Elyse Friedman
HarperCollins Canada, December 2022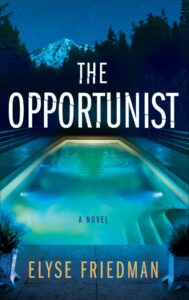 When Alana Shropshire hears from her brothers, Teddy and Martin, complaining about Kelly, the 28-year-old "gold-digger" their 76-year-old father has taken up with, she ignores them. A single mom with a disabled daughter, Alana has more important things on her mind and has long since left her dysfunctional family behind. But her brothers persist, and eventually, she relents. In exchange for sorely needed payment, Alana flies to her father's private island retreat to perform one tiny task in Teddy and Martin's simple plan to make the gold-digger go away.
But when Kelly proves a lot wilier than expected, Alana is entangled in an increasingly dangerous scheme full of twists, turns, secrets and surprises. She has long viewed her brothers as callous sycophants who sacrificed their integrity and freedom for a share of their father's fortune. But what more are they capable of, and how far will they go to retain control?
Is Kelly really an opportunist? Or is it Alana's father, an exploitative businessman with more than a few skeletons in the closet? Or perhaps it's Teddy and Martin, who will do anything to secure their piece of the pie.
Elyse Friedman is a critically acclaimed author, screenwriter, poet and playwright