Jess Damuck, author of the bestselling book Salad Freak, is back to teach you how to cook obsession–worthy feel–good food.
HEALTH NUT
A Feel-Good Cookbook
by Jess Damuck
Abrams, March 2024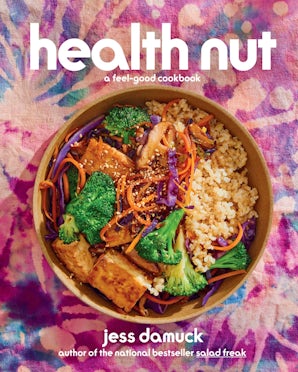 Jess Damuck's feel–good recipes make eating healthy an easy habit to make and keep. Being a health nut is delicious, rewarding, and supremely satisfying, without any feeling of deprivation. It's all about perfecting the basics and then getting creative to play up natural flavors while listening to your cravings. Building on the fresh, colorful, and flavor–blasting seasonal menus Damuck lives by, HEALTH NUT is playful, accessible, and irresistible. With recipes special enough to serve at dinner parties but doable enough to make on the weeknights, this cookbook will include:
• Crispy Rice and Spicy Salmon Bowl with Quick Pickles and Greens ·Jicama, Basil, Avocado, and Sprout Summer Rolls
• Roasted Cauliflower Flatbreads with Spicy Tahini and Sumac Onions
• Raw Snap Peas with Feta, Chile and Mint
• Smashed Beets with Oranges, Rosey Harissa and Whipped Goat Cheese
HEALTH NUT is a must–have for all of us who want to practice being intentional with what we eat and absolutely love doing it.
Jess Damuck is the author of Salad Freak. She has worked with Martha Stewart for the past decade as a food editor, producer, food stylist, and personal salad maker, including on VH1's Martha and Snoop's Potluck Dinner Party. Damuck has also worked at Bon Appétit, Food Network, Apartment Therapy, and Vox Creative, and has produced thousands of food–related web videos for clients. She lives in Brooklyn and Los Angeles.