From the author of Newbery Honor-winning book Iveliz Explains It All comes this moving novel in verse, in which a lost dog helps a lonely girl find a way home to her family . . . only for them to find family in each other along the way.
SOMETHING LIKE HOME
by Andrea Beatriz Arango
Random House, September 2023
(via Writers House)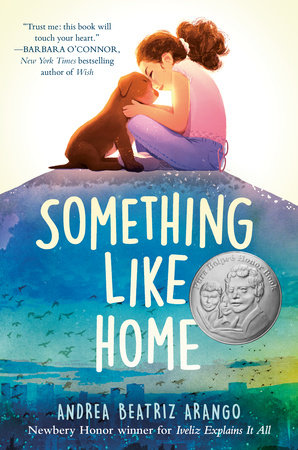 Laura Rodriguez has a plan: No matter what the grown-ups say, she will live with her parents again. Can you blame her? It's tough to make friends as the new kid at school. And while staying at her aunt's house is okay, it just isn't the same. But that's all going to change. Because when Laura finds a puppy, it seems like fate. If she can train the puppy to become a therapy dog, then maybe she'll be allowed to visit her parents. Maybe the dog will help them get better, and things will finally go back to the way they should. After all, how do you explain to others that you're technically a foster kid, even when you live with your aunt? Most of all . . . how do you explain that you're not where you belong, and you just want to go home?
Andrea Beatriz Arango is the Newbery Honor Award-winning author of Iveliz Explains It All. She was born and raised in Puerto Rico and is a former public school teacher with almost a decade of teaching experience.