Bring fresh meaning to your houseplants, bouquets, and floral arrangements with this illustrated exploration of the rituals, cultures, and mythology behind 600 blooms, herbs, and trees.
FLOWERS AND THEIR MEANING:
The Secret Language and History of 600 Blooms
by Karen Azoulay
Clarkson Potter, February 2023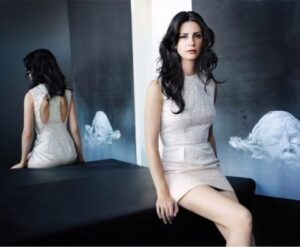 In the Victorian language of flowers, hundreds of blooms were ascribed specific meanings based on mythology, science, foreign language, and ancient history. Page through this botanical encyclopedia to learn each flower's Victorian meaning (blackberry, for example, represents « envy » while ranunculus boldly states, « I am dazzled by your charms »), other common names for the bloom, and read about each flower's cultural history. There is also an index of the flowers grouped by theme, should you want to challenge your local florist with creating a coded message for a loved one.
Karen Azoulay pairs vintage botanical drawings with electric photography, creating a one-of-a-kind flower dictionary with a distinctly mystic feel. FLOWERS AND THEIR MEANINGS is both a beautiful volume and a practical guide to incorporating the language of flowers into your own life.
Karen Azoulay is an interdisciplinary artist and author whose performance and sculptural art explores earth-elements and the female form. Her projects have been featured and reviewed in publications such as the New York Times, New Yorker, Hyperallergic, and Vogue. Recent exhibitions include Semi-Precious, a solo show at Essex Flowers in New York, and Root of the Head at Simone DeSousa Gallery in Detroit.