A hilarious Agatha Christie-inspired YA thriller-comedy about three best friends who sneak into an influencers-only festival event (gone wrong), only to discover a killer is in their midst–and they have to uncover the truth and solve the mystery before it's too late. Perfect for fans of One of Us Is Lying and Truly Devious.

YOU'RE SO DEAD
by Ash Parsons
Philomel, Summer 2021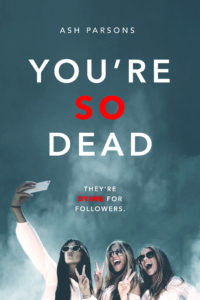 Plum Winter has always come in second to her sister, the unbelievably cool, famous influencer Peach Winter. And when Peach is invited to an all-expenses paid trip to a luxurious art and music festival for influencers on a private island in the Caribbean, Plum decides to intercept the invite. This time, she's going to have some fun. She convinces her two best friends Antonia and Marlowe to come with her—'cause hey, they were planning on a spring break trip anyway, right? But when Plum and her friends get to the island, it's not anything like it seemed in the invite. The island is run-down, creepy, and there doesn't even seem to be a festival—it's just seven other quasi-celebrities and influencers. And then people start to die… Plum and her friends soon realize that someone has lured each of them to the « festival » to kill them. Someone has a vendetta against every person on the island–and no one is supposed to leave the island alive. So, together, Plum, Antonia, and Marlowe will do whatever it takes to unravel the mystery of the killer, and fight to save themselves and as many influencers as they can, before it's too late.
Ash Parsons is a graduate of Ringling Bros. and Barnum & Bailey Clown College as well as other, more traditional schools. She is a PEN America Literary Award Winner for the Phyllis Naylor Working Writer Fellowship. Ash previously taught English to middle and high school students. Ash lives in Alabama with her family. She is also the author of Girls Save the World in This One, Still Waters, and Holding On to You, previously published as The Falling Between Us.