Newbery Honor-winner Kathryn Lasky, author of the Guardians of Ga'hoole series, delivers a riveting middle-grade historical fiction novel about young British spies on a secret mission in Germany in WWII.
FACELESS
by Kathryn Lasky
HarperCollins Children's, May 2021
Ages 8 -12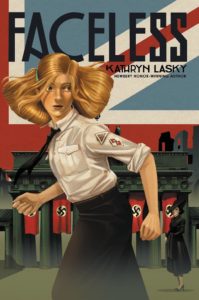 Over the centuries, unbeknownst to all, a small clan of spies has worked ceaselessly to fight oppression. They are called the Tabula Rasa. They can pass unseen through enemy lines, eavesdrop on conversations, and « become » other people without being recognized. They are, essentially, faceless. Alice and Louise Winfield are sisters and spies in the Tabula Rasa. They're growing up in war-time England, where the threat of Nazi occupation is ever near. But Louise wants to live an ordinary life, and she tires of spy missions. When she leaves the agency, Alice must face her most dangerous assignment yet, without her sister at her side. As Alice prepares for her new mission, she must head into Hitler's inner sanctum in Germany to report on the Nazis. She fears the threat of discovery, but, worst of all, she fears losing her own sister. This novel is a mix of espionage and historical adventure. Lasky masterfully spins a tale filled with mystery, suspense and intrigue.
Kathryn Lasky is a New York Times bestselling author of many children's and young adult books, which include her Tangled in Time series; her recent picture book She Caught the Light, her bestselling series Guardians of Ga'Hoole, which was made into the Warner Bros. movie Legend of the Guardians: The Owls of Ga'Hoole; and her picture book Sugaring Time, awarded a Newbery Honor. She has twice won the National Jewish Book Award, for her novel The Night Journey and her picture book Marven of the Great North Woods. She lives in Cambridge, Massachusetts, with her husband.