"Astute Engrossing thriller" – starred Kirkus

The Stranger Inside
Lisa Unger
Park Row,publication September 2019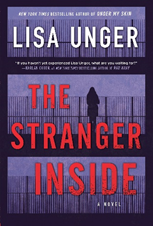 « A darkly thrilling tale of survival and obsession. Lisa Unger never disappoints. » —Riley Sager, bestselling author of Lock Every Door
"It's not often that I'm stunned by the ending to a novel. But The Stranger Inside is rich with surprise from the very first page. It's a smart, taut thriller." —Chris Bohjalian, bestselling author of The Flight Attendant and Midwives
Rain Winter, a former investigative journalist and news producer is trying to live the perfect suburban life. She very much wants to be an involved stay-at-home mom for her daughter Lily and most of the time she loves it. But she is also still drawn to the career she left behind, she misses her work friends and doesn't always find it easy to relate to other mothers on the playground or even to her busy working husband. Even though this is a thriller, Rain's story, her struggle to reconcile her two selves adds an extra layer to the already great story and will resonate on another level with every female reader of the book.
When she was twelve, Rain narrowly escaped an abduction while walking to a friend's house. Her two best friends, Tess and Hank, were not as lucky. Tess never came home, and Hank was held in captivity before managing to escape. Their abductor was sent to prison but years later was released. Then someone delivered real justice—and killed him in cold blood. And now, another brutal murderer who escaped justice is found dead and Rain is instantly drawn into the case. Eerie similarities to the murder of her friends' abductor force Rain to revisit memories she's worked hard to leave behind.
In The Stranger Inside Lisa Unger has created a very compelling and original killer and has stretched the boundaries and skillfully blurred the lines between right and wrong, crime and justice, and most importantly who should be administering it.
Lisa Unger is the New York Times bestselling, award-winning author of fourteen novels. Her last l Under My Skin and her short story The Sleep Tight Motel were nominated for Edgar Award.