This delightfully witty fantasy series is about a princess who runs away to find some excitement—and finds plenty!
ENCHANTED FOREST CHRONICLES series
by Patricia C. Wrede
Houghton Mifflin Harcourt/HarperCollins, 1990 – 1993, Reprint editions 2015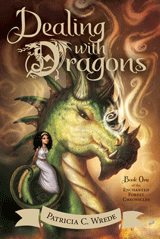 Book 1: DEALING WITH DRAGONS (Reprint edition, 2015)
Meet Princess Cimorene–a princess who refustes to be proper. She is everything a princess is not supposed to be: headstrong, tomobyish smart…
And bored.
So bored that she runs away to live with a dragon. And not just any dragon, but Kazul–one of the most powerful and dangerous dragons arounds. Of course, Cimorene has a way of hooking up with dangerous characters, and soon she's coping with a witch,a a jinn, a death-dealing talking bird, a stone prince, and some very oily wizards.
If this princess ran away to find some excitement, it looks like she's found plenty!
Book 2: SEARCHING FOR DRAGONS (Reprint edition, 2015)
As this young adult fantasy series continues, a princess must join forces with the king of the Enchanted Forest to find a missing dragon.
Cimorene, the princess who refuses to be proper, is back—but where is Kazul the dragon? That's what Cimorene is determined to find out!
Book 3: CALLING ON DRAGONS (Reprint edition, 2015)
The magical, young adult fantasy series continues as Cimorene discovers being queen is tougher than it looks as she fights to save her kingdom.
Those wicked wizards are back—and they've become very smart. Sort of. They intend to take over the Enchanted Forest once and for all…unless Queen Cimorene finds a way to stop them. And she just might be able to with some help from a dragon king, a witch, a magician, two cats, and a blue, flying donkey-rabbit named Killer.
Book 4: TALKING TO DRAGONS (Reprint edition, 2015)
The humorous young adult fantasy series comes to a close as a young prince begins a heroic quest—he just doesn't know it yet.
One day, Daystar's mom, Cimorene, hands him a magic sword and kicks him out of the house. Daystar doesn't know what he is supposed to do with the magic sword, but knowing Cimorene, he's sure it must involve a dragon or two!
Patricia C. Wrede has written all four books in the Enchanted Forest Chronicles as well as Sorcery & Cecilia, The Grand Tour, and The Mislaid Magician, co-written with Caroline Stevermer. Ms. Wrede lives and writes in Minneapolis, Minnesota.