The first in a new middle-grade graphic novel series, featuring over-the-top action and excitement—and a superpower all kids dream of having.
THE ADVENTURES OF INVISIBLE BOY
by Doogie Horner
Putnam, Fall 2023
(via Writers House)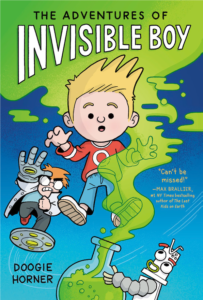 It's the wind! It's a ghost! No, it's Invisible Boy! It's Stanley's first day at a new school and he is not looking forward to meeting a bunch of new kids. He wishes he could be invisible until he gets the lay of the land, and, due to a science project spill, it actually happens!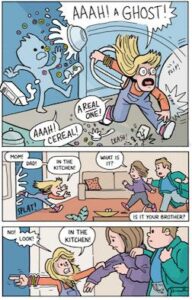 Turns out Stanley's neighbor, Gene, is a pint-sized evil genius (with a secret science lair in his basement) and because that potion spill robbed him of first place in the science fair, he is determined to take his anger out on kids all over town. Good thing Stanley wants to use his invisible powers for good, even if it leads to an epic battle with tons of Gene's outrageous inventions.
"On the first day of school, a new kid and an evil genius are about to collide. Our hero may be invisible—but THE ADVENTURES OF INVISIBLE BOY can't be missed!" —Max Brallier, #1 New York Times bestselling author of The Last Kids on Earth
Doogie Horner is the author of This Might Hurt a Bit, Some Very Interesting Cats Perhaps You Weren't Aware of, Everything Explained Through Flowcharts, A Die Hard Christmas, and other books. His comedy album A Delicate Man was an AV Club staff pick. He won over a hostile NYC audience on America's Got Talent and is a frequent guest on Doug Loves Movies.