Based on the beloved comic strip by Bob Scott, the Molly and Bear series by Bob and Vicki Scott is a pitch-perfect, lighthearted, hilarious odd couple graphic novel adventure that's sure to become a new favorite for middle-grade readers.
MOLLY AND BEAR
by Bob & Vicki Scott
Aladdin/Simon & Schuster, Summer 2024
(via Writers House)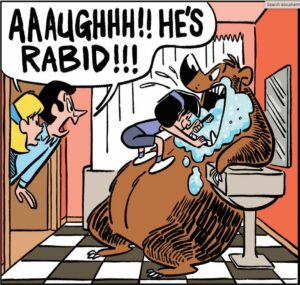 11 year old Molly has an unusual new BFF: an 800 pound scaredy bear! When Bear wanders into Molly's life, it doesn't take long for her to figure out she's just met her new bestie. Loyal, sweet, inquisitive…and terrified of almost everything. . . Bear makes a great new friend. And he's not scary AT ALL! But try telling that to the rest of the world.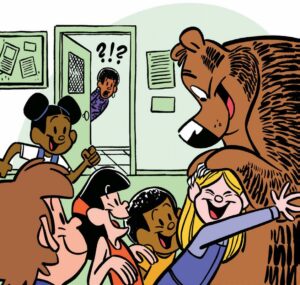 Molly eventually convinces her mom and dad to let Bear stay with them, but convincing everyone else that Bear isn't dangerous (not to mention convincing Bear that he isn't in constant danger!) is going to take some work. Lucky for Bear, Molly doesn't give up easily so she's up for the challenge.
Bob and Vicki Scott began their careers in animation and have worked on films for Dreamworks and Pixar. Molly and the Bear, which is based on Bob's syndicated comic strip Bear with Me, is their middle-grade debut.