Based upon the true story of 19th-century French explorer, naturalist and diplomat the Count de Castelnau and his lover Madame Fonçeca, a sweeping historical narrative set in the wilds of Brazil, the salons of Paris and Melbourne in its early settlement days. For fans of Pip Williams' The Dictionary of Lost Words and Elizabeth Gilbert's The Signature of All Things.
THE NATURAL HISTORY OF LOVE
by Caroline Petit
Affirm Press, May 2022
(via Kaplan/DeFiore Rights)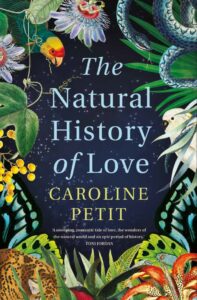 Australia, 1902: When lawyer Nathan Smithson takes on the case of mad, wealthy Edward Fonçeca's inheritance trial against his ruthless brother Charles, he must unearth long buried family secrets to have any chance of winning.
Brazil, 1852: Carolina Fonçeca is 16 years old and longing to leave the confines of her family's remote Brazilian sugar plantation. François, the Count de Castelnau and French Consul to Bahia has fallen dangerously ill with a fever on a naturalist expedition and been delivered by Tupi Indians to the Fonçeca household. With a head full of Balzac and dreams of Parisian life, Carolina is instantly beguiled by the middle-aged Frenchman.
But what François has failed to tell Carolina is that he has a wife and son back in France. Desperate for a new life, Caroline makes a decision which will haunt her forever.
From the salons of Paris to the snobbish sitting rooms of Melbourne's high society, the couples' unhappy deception must continue. Meanwhile, the lives of their sons' begin to unravel: Charles into thuggery, Edward into madness.
Caroline Petit was born in Washington D.C., raised in Maryland and now lives in Melbourne, Australia with her husband. She is a graduate of Chatham College in Pittsburgh and holds advance degrees from Johns Hopkins University, the London School of Economics, and the University of Melbourne's School of Law. Her previous novels, The Fat Man's Daughter and Deep Night were published in the US by Soho Press.