In this revolutionary self-help guide, two beloved Native American wellness activists offer wisdom for achieving spiritual, physical, and emotional wellbeing rooted in Indigenous ancestral knowledge.
THE SEVEN CIRCLES:
Indigenous Teachings for Living Well
by Chelsey Luger & Thosh Collins
HarperOne, October 2022
(via Sterling Lord Literistic)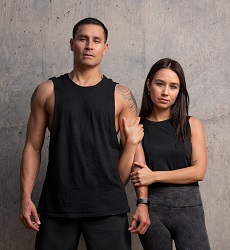 When wellness teachers and husband-wife duo Chelsey Luger and Thosh Collins founded their Indigenous wellness initiative, Well for Culture, they extended an invitation to all to honor their whole self through Native wellness philosophies and practices. In reclaiming this ancient wisdom for health and wellbeing—drawing from traditions spanning multiple tribes—they developed a holistic model for modern living rooted in timeless teachings from their ancestors. Luger and Collins have introduced this universally adaptable template for living well to Ivy League universities and corporations like Nike, Adidas, and Google, and now make it available to everyone in this wise guide.
Their model comprises interconnected circles that keep all aspects of our lives in balance, functioning in harmony with one another. They are: Food, Movement, Sleep, Ceremony, Sacred Space, Land, Community.
In THE SEVEN CIRCLES, Luger and Collins share intimate stories from their life journeys growing up in tribal communities, from the Indigenous tradition of staying active and spiritually centered through running and dance, to the universal Indigenous emphasis on a light-filled, minimalist home to create sacred space.
With warmth and generosity—and 75 atmospheric photographs by Collins throughout—THE SEVEN CIRCLES teaches us how to connect with nature, with our community, and with ourselves, and to integrate ancient Indigenous philosophies of health and wellbeing into our own lives to find healing and balance.
Chelsey Luger and Thosh Collins are cofounders of the Indigenous wellness organization Well for Culture, for which they conduct workshops and keynote speaking engagements around the world with universities, non-profit organizations, and corporations such as Nike, Adidas, Google, and Equinox. Their work has been featured in numerous publications including The New York Times, BBC World News, Shape, Bon Appetit, Well + Good, and the Nike N7 campaign, among other outlets. They live in Arizona with their two daughters.