Piercingly clear-eyed and deeply insightful, THE PRICE OF TWO SPARROWS explores what we hold sacred and why. It delicately picks apart questions of community and prejudice, religion and nature in the modern world. This is a beautiful and thought-provoking debut from an exceptional new Australian writer.
THE PRICE OF TWO SPARROWS
by Christy Collins
Affirm Press, January 2021
(chez Kaplan/DeFiore Rights – voir catalogue)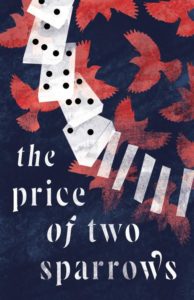 Heico is an ornithologist fighting a losing battle to protect the birds in his beachside suburb. When a journalist asks for comment on a planned development, Heico exaggerates his reports on how many migratory birds use the site. Soon it is revealed that the proposed building is a mosque, and he finds himself embroiled in community resistance to the project. Still, he refuses to back down. As the delayed mosque project becomes a focal point for growing Islamophobia, Heico must confront his own ghosts, and the prejudices he insists he doesn't have. Nahla is Heico's house cleaner. Having recently arrived in Australia she is trying to find her place in a new country and a new marriage. Isolated and lonely, she sees the mosque as a symbol of what she hopes to find in Australia: community, familiarity, acceptance. But as resistance to the project intensifies, she must summon the courage and the language to speak out and claim her space in this new life.
Christy Collins is a writer, reader, film reviewer and PhD student at the University of Tasmania. Her novel The End of Seeing was published by Seizure and was a joint winner of the Viva la Novella Prize 2015.