FRANKFURT
BOOK FAIR
2014
CHILDREN'S BOOKS

Download here our full catalogue in PDF format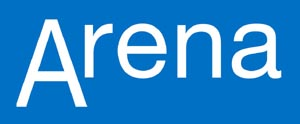 Download here the Arena Verlag Children's Books Catalogue Automn 2014
and
Here the Arena Verlag Young Adults Catalogue Automn 2014
A riveting environmental thriller
BRENNENDES WASSER
(Burning Water)
by Lukas Erler
June 2014
Josh, Caro and Speedy can't  believe what  they're seeing:  When they sneak up to Old Matthis' house to watch him, they see  fire coming out of his  water faucet. Soon after, there's an explosion and the whole house collapses. Just  a  terrible accident?
While  the youngsters in Northern Germany are still wondering about the incident, the explosion  causes great excitement for a Canadian energy company: It has conducted test drillings in  the area around Matthis' home. The three eye witnesses could break a million-dollar deal. Somebody will have to silence them a.s.a.p…
Lukas Erler's first novel, Oil Spill as well as his subsequent book Murderous Freight  were both nominated for the Friedrich Glauser Award which is the most important award for mystery story writers.

A one-of-a-kind reading experience: gripping psychological suspense by the masterful thriller author Beatrix Gurian, paired with artful, sensual photographs by Erol Gurian
STIGMATA
by Beatrix Gurian
June 2014
Shortly after her mother's death Emma receives an old black-and-white photo of a toddler from an anonymous sender. Included with the picture is the mysterious request to look for her mother's murderers.
Emma is supposed to find them in a youth camp that takes place in an old castle tucked away in the mountains.
There she keeps discovering eerie castle photographs of days gone by. Something mysterious is going on.
.
Watch the book trailer:

From the bestselling author of MALFURIA TRILOGY
5 TAGE IM APRIL
(Five Days in April)
by Christoph Marzi
June 2014
After his mother's tragic accident, Jack drives to Seals Head Harbor to deliver a message which contents he doesn't know. He quickly learns that he's not a stranger in the town. His own past seems to be tightly linked to the mythical legend of the coastal town that indicates not only good things.
If it hadn't been for Sadie with her sea blue eyes, Jack would have turned around on his heels!
200000 copies of Christoph Marzi's books have already been sold in total.
.
.

A memorable day awaits Lina and Fred – best buddies in the whole world!
LINA UND FRED: EIN BÄR KENNT KEIN PARDON
(Lina and Fred: A Bear just can't get a Break)
by Alice Pantermüller
June 2014
Those who have ever been visited by Fred, the bear, can consider themselves lucky! That's because Fred is a very special bear – a bear who can play the bagpipe and knows where to look for adventures.
One day Fred stands at the reception of the Hotel Bear end Lina knows right away that she can have real fun with him. But will Lina's dad appreciate the race on tea carts, the boat trip with the cat food manufacturer's motorboat and the secret mission against grumpy Granny? After all, the guests of Hotel Bear seek rest and a pretty lake view…
Alice Pantermüller is a bestselling author with more than 350000 copies sold.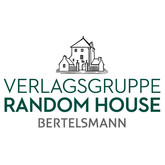 Download here the Random House Germany Children's and YA books Catalogue Automn 2014
A deeply touching novel about dementia
DIE BLAUEN END DIE GRAUEN TAGE
(The Blue and the Grey Days)
by Monika Feth
Cbt, September 2014
Evi has been impatiently waiting for this day to come. Now it is here – the day her beloved Granny is to come and live with her and her family. Evi's older sister, Vera, is less enthusiastic about their future family life. The thought of having to turn her life upside down so that an old woman – and a confused one at that – can come and live with them is enough to give her nightmares.
When Granny has at last arrived, Evi cannot understand why everyone says she is « confused ». Granny is the good spirit in the house. Ever since she has taken charge of the household, everything is much nicer and cosier and friendlier. Then, one evening, it happens: Granny has suddenly disappeared. During the search that night, Evi finds her lost and cowering at the station. The next day, Granny can remember nothing …

A gripping thriller à la Sherlock Holmes
MADISON MAYFIELD: DIE AUGEN DES BÖSEN
(The Eyes of Evil)
by Rainer M. Schröder
Cbj, November 2014
London 1890. 17-year-old Madison Mayfield has been living with her uncle and aunt in a pretentious town house after her parents were killed in a tragic accident two and a half years ago.
She herself only barely escaped death and has been haunted at regular intervals by visions ever since: torn away from here and now, she sees terrible crimes from close up but can recognise only the victims, never the culprit. Madison fights these visions with every thread of Her being until one day she is confronted with a newspaper article describing one of the murders she had in her mind's eye.
Rainer M. Schröder is one of the most high-profile writersof books for teenagers in German.

Patrycja Spychalski – the refreshing voice in realistic young-adult fiction
BEVOR DIE NACHT GEHT
(Before the Night Goes)
by Patrycja Spychalski
Cbt, July 2014
When Kim and Jacob bump into each other in the Berlin city train one perfectly normal Saturday morning, it is love at first sight! All Kim really wanted to do was go shopping, but when Jacob tells her that he can't stand Berlin, she persuades him to go with her – across the city, to all her favourite places. Jacob should fall in love with Berlin and perhaps also with her.
But it is Jacob's last day before leaving the next morning to go away for a year. It might be hopeless, but he nevertheless follows this girl who has so unexpectedly wriggled her way into his heart, through streets, parks and cafés. One day and one night is all they have – and each and every second with Kim is throbbing with life, like Berlin itself.



Download the Laura Dail Literary Agency Catalog Automn 2014
The first in a new series set in the 1960s and starring Pagan Jones, actress and spy
THE NOTORIOUS PAGAN JONES
by Nina Berry
Harlequin Teen, June 2015
Pagan Jones was at the top of her field – a beautiful, award-winning actress whose very presence made a movie a hit. Until she killed her father and sister while driving drunk. Pagan is sent to a juvenile correctional facility and believes she will never work again. Which is why she's confused when a man claiming to be a studio executive pulls her out of jail to star in a new movie, filming in Berlin. Pagan knows there is more to the story, but this is her way out, and she takes it.
Pagan quickly realizes she was right: there is a reason she was brought on to star in this movie. Berlin in 1961 is in a precarious position. The allies have control of three quarters of the city, with the communists in control of the other. The allies believe the communists are about to take a drastic step, but can't figure out what. Enter Pagan Jones, the favorite movie star of the communist leader's daughter and the key to figuring out what the communists are up to. The CIA and MI6 have teamed up for this operation, but it's Pagan who must take control if it's to succeed.
Pagan must navigate the intricate spy games she is suddenly a part of, all while battling her addiction to alcohol and an attraction to her young handler.

A YA « Grey Gardens » about a teen who lives in squalor in a crumbling mansion on Long Island and subsists on a mysterious trust fund — but who stands to lose everything when the secrets, lies, and scandals of the people in her midst are revealed
EDGEWATER
by Courtney Sheinmel
Abrams/Amulet, Fall 2015
"Edgewater is absolutely extraordinary" – Adele Griffin
Lorrie lives between worlds. She appears to be yet another member of the Long Island elite but Edgewater, her family estate, has fallen into disrepair under the control of her manic aunt, her hippie sister, and the slew of feral cats that have overrun her home.
But it isn't until Lorrie gets kicked out of camp for overdue payment and sent back to Long Island that she's forced to deal with the mounting pile of issues (and bills) that she's been avoiding for years. As Lorrie unravels the mystery of her family's sudden lack of funds, she unearths the startling truth about the mother that abandoned her. She is also trying to restrain her feelings for Charlie Copeland while trying to keep the state of her family secret. But it seems Lorrie and Charlie's families may share more in common than either Lorrie or Charlie could anticipate.


For the Dystel & Goderich catalogue Fall 2014, please use our contact form
Welcome to:
THE MUSEUM OF HEARTBREAK
by Meg Leder
Simon Pulse, Summer 2016
Curated by sixteen-going-on-seventeen Penelope Marx, the Museum of Heartbreak (MoH) is dedicated to the documentation and study of the devastating, lonely-making, ass-kicking phenomenon known as heartbreak. Featuring a spectrum of artifacts that chronicle the lives of the curator, her best friends, her first boyfriend, and some dinosaurs, the MoH explores the giddy confusion, inevitable sadness, and sheer joy of growing up and falling in love.
Penelope is a pretty regular girl, at least by Manhattan standards. Her mom's a teacher and her dad works at the Natural History museum, and she spent her childhood surrounded by dinosaurs, dioramas, and her two best friends–lanky artist Eph and popular nice girl Audrey. Except for a few run-ins with her nemesis Cherisse, high school has been fairly drama free, until the day that Keats shows up at school. Handsome, charming, but with just enough edge, Keats comes in and upends everything. And when Pen finds herself growing more distant from Audrey and uncomfortably closer to Eph, Penelope manages to screw up just about everything she had going for her. Faced with her first break-up, and her first heartbreak, Pen decides to put together a collection to tell her story and help her sort out her feelings. And the Museum of Heartbreak is born.
Rights sold in: Germany (cbj)

The first in a middle grade action-adventure series about Gillian, her friends, and the mysterious Dr. Underberg and his amazing creations
OMEGA CITY (#1)
by Diana Peterfreund
Harpercollins Children's, May 2015
Twelve-year-old Gillian Seagret isn't ashamed of her father, even if her mother, brother, and all of her father's former colleagues are. Previously a professor specializing in secrets of the Cold War, he's now merely another conspiracy theorist, giving lectures at the VA Hall on the myth of the moon landing and with a following squarely in the tinfoil-hat crowd. No one but Gillian takes him seriously anymore, until the day that Fiona Smythe shows up. Gorgeous, smart, and even employed, Gillian is sure that Fiona is up to no good.
And she isn't: it becomes clear that she's after something in Gillian's father's notes. So with the help of her brother, her best friend, the class nerd, and the nerd's super cute older brother, she investigates her father's research, and they set out to find Omega City, an underground complex built by the discredited genius Dr. Aloysius Underberg in attempt to save humanity from destroying itself. But the technological marvel is falling apart from apparent neglect, and the kids are trapped–along with Fiona and her goons, who are hot on their trail. They'll have to use their wits to escape the crumbling underground city, evade the villainous Fiona, and make it back to the surface to clear the professor's name.
Next two books will publish in Spring 2016 and in Spring 2017.
Diana Peterfreund's previous titles have sold in more than 10 countries.

Destiny takes a detour in this heartbreakingly hilarious novel from the acclaimed author of WINGER
100 SIDEWAYS MILES
by Andrew Smith
Simon &​ Schuster Books for Young Readers, September 2014
« John Green fans will enjoy Smith's newest novel. » – VOYA
« A wickedly witty and offbeat novel…a breathtaking read. » – Kirkus
Finn Easton sees the world through miles instead of minutes. It's how he makes sense of the world, and how he tries to convince himself that he's a real boy and not just a character in his father's bestselling cult-classic book. Finn has two things going for him: his best friend, the possibly-insane-but-definitely-excellent Cade Hernandez, and Julia Bishop, the first girl he's ever loved.
Then Julia moves away, and Finn is heartbroken. Feeling restless and trapped in the book, Finn embarks on a road trip with Cade to visit their college of choice in Oklahoma. When an unexpected accident happens and the boys become unlikely heroes, they take an eye-opening detour away from everything they thought they had planned—and learn how to write their own destiny.
In September 2014, 100 SIDEWAYS MILES was longlisted for the National Book Award.



Download here the Harvey Klinger Children's Books Catalogue Automn 2014
A thriller with shocking twists, that explores the damage done when we attempt to encrypt our personal histories.
THE CIPHER
by John C. Ford
Viking, February 2015
Ford's The Cipher is a thrill-a-minute ride. You'll be rooting for Smiles from the first page. A very cool read.– David Baldacci
Smiles isn't what you'd call a genius, but he seems to be surrounded by them: his dad, the famous software mogul; his girlfriend, the straight arrow; and Ben, the 16-year-old math prodigy who makes his unlikely best friend.
When Ben cracks a real-life, ancient math riddle central to modern encryption systems, he suddenly holds the power to unlock every electronic secret in the world—and Smiles, finally, has a chance to prove his own worth. Hatching a plan to keep Ben safe from government agents ready to kill for the discovery, joined by a free-spirited girl of unknown origin, Smiles comes to understand a long-hidden mystery of his own life, one that's far more puzzling than any algorithm.

The first in a futuristic YA cyberpunk series about a teen hacker, whose friend's overdose on an illicit digital drug leads her to uncovering a dark mystery with roots deep in her LA neighborhood's crime syndicate
BLUESCREEN
by Dan Wells
Balzer + Bray (HarperCollins), 2015
Marisa's friend Anja uses a data drug that plugs into your djinni, overloading your sensory feeds to induce a hallucinogenic trip. Mari looks deeper and eventually uncovers a conspiracy of mind control, human slavery, and corporate intrigue: the drug actually plants a virus in your head, letting its controllers use your body like a puppet. She does what she can to stop them, but first she has to find them–and when she does, she realizes that the only way to hurt them is to orchestrate a turf war with one of LA's other dealers. This proves deadlier than she ever expected when the techno-druglords activate their entire army of puppets, turning thousands of innocent victims into zombie-like warriors hell bent on revenge–including Anja.
Rights sold in Germany (Piper)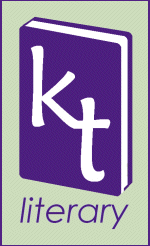 Download here the KT Literary Catalogue Automn 2014
Romance and action come crashing together when a teenage boy with incredible powers is brought to the attention of the government
TUNNEL VISION
by Susan Adrian
St. Martin's Press, January 2015
Jake Lukin just turned 18. He's decent at tennis and Halo, and waiting to hear on his app to Stanford. But he's also being followed by a creep with a gun, and there's a DARPA agent waiting in his bedroom. His secret is blown. When Jake holds a personal object, like a pet rock or a ring, he has the ability to « tunnel » into the owner. He can sense where they are, like a human GPS, and can see, hear, and feel what they do. It's an ability the government would do anything to possess: a perfect surveillance unit who could locate fugitives, spies, or terrorists with a single touch. If he doesn't agree to help the government, his mother and sister may be in danger. Suddenly he's juggling high school, tennis tryouts, flirting with Rachel Watkins, and work as a government asset, complete with 24-hour bodyguards. Forced to lie to his friends and family, and then to choose whether to give up everything for their safety,
Jake hopes the good he's doing—finding kidnap victims and hostages, and tracking down terrorists—is worth it. But he starts to suspect the good guys may not be so good after all. With Rachel's help, Jake has to try to escape both good guys and bad guys and find a way to live his own life instead of tunneling through others.

An attraction impossible to ignore
MORE THAN MUSIC
(The Chasing the Dream Series #1)
by Elizabeth Briggs
CreateSpace Publishing

, June 2014
Music major Maddie Taylor just finished her junior year of college and has a summer internship lined up with the LA Philharmonic, yet every night she practices guitar and secretly dreams of a louder life. But geeky girls like her don't get to be rock stars. That is, until tattooed singer Jared Cross catches her playing guitar and invites her to join his band on The Sound, a reality TV show competition.
Once on the show, Maddie discovers there's more to Jared than his flirty smile and bad boy reputation – and that he's just as big a geek as she is. With each performance their attraction becomes impossible to ignore, but when the show pressures them to stay single they're forced to keep their relationship secret.
As the competition heats up, Jared will do whatever it takes for his band to win, and Maddie must decide if following her dream is worth losing her heart.

The first book in the Secrets of the Pied Pipertrilogy is bursting with adventure
THE PEDDLER'S ROAD
(The Secret of the Pied Piper #1)
by Matthew Cody
Knopf, Fall 2015
It is said that in the 13th Century, in a village called Hamelin, a Piper lured all of the children away with his magical flute, and none of them were ever seen again.
Today tough, pink-haired Max and her little brother, Carter, are stuck in modern-day Hamelin with their father… until they are also led away by the Piper to a place called the Summer Isle. There they meet the original stolen children, who haven't aged a day and who have formed their own village, vigilantly guarded from the many nightmarish beings that roam the land.
No one knows why the Piper stole them, but Max and Carter's appearance may be the key to returning the lost children of Hamelin—and to going home themselves. But to discover the secrets of the Piper, Max and Carter will have to set out on a mysterious quest down the dangerous Peddler's Road.
Matthew Cody is the author of the MG superhero novel POWERLESS (Knopf, October 2009), winner of multiple state awards including the Rebecca Caudill Book Award; the timetravel adventure THE DEAD GENTLEMAN (Knopf, November 2011); the sequel to POWERLESS, SUPER (Knopf, September 2012); the historical adventure WILL IN SCARLET, and the conclusion to the Supers of Noble Green series, VILLAINOUS (Knopf, Fall 2014).

From critically-acclaimed author Trish Doller comes a powerful new psychological page-turner perfect for fans of Lauren Oliver and Sara Zarr
THE DEVIL YOU KNOW
by Trish Doller
Bloomsbury, July 2015
Eighteen-year-old Arcadia wants adventure. Living in a tiny Florida town with her dad and four-year-old brother, Cadie spends most of her time working, going to school, and taking care of her family. So when she meets two handsome cousins at a campfire party, she finally has a chance for fun. They invite her and a friend to join them on a road trip, and it's just the risk she's been craving — the opportunity to escape. But what starts out as a fun, sexyjourney quickly becomes dangerous when she discovers that one of them is not at all who he claims to be. One of them has deadly intentions.
A road trip fling turns terrifying in this contemporary story that will keep readers on the edge of their seats.

Download the MacMillan Children's Publishing Group Catalogue Automn 2014
From the author of the adult fantasy series WebMage and Assassin's Blade
SCHOOL FOR SIDEKICKS
by Kelly McCullough
Feiwel & Friends, August 2015
Evan Quick is a GIANT superhero geek who dreams of one day becoming a superhero himself. Every morning he checks to see if he's developed his powers overnight, and every day there's nothing. No flying, no super strength, no invulnerability—that always hurts to check—no telepathy, no magic. Not even the ability to turn off the alarm clock without smacking the switch.
But then Evan somehow manages to survive a supervillian death ray, and is sent to the Academy for Metahuman Operatives. Unfortunately, his new school is not what he expected, and instead of fighting bad guys, Evan finds himself blacklisted, and on the wrong side of the school's director. If Evan ever wants to realize his dream, he must convince his "mentor" Foxman, a semi-retired has-been, to become a real hero once again.

In this intensely romantic novel, Maddy falls in love with her skating partner—who is also the boy next door
THE BOY NEX DOOR
by Katie Van Ark
Swoon Reads, February 2015
Maddy Spier has been in love with the boy next door forever. As his figure skating partner she spends time in his arms every day. But she's also seen his arms around other girls—lots of other girls.
Gabe can't imagine skating with anyone but Maddy, and together they have a real chance at winning some serious gold medals. So, he's determined to keep thinking of her like a sister. After all, he's never had a romantic relationship that lasted for more than two weeks.
But when their coach assigns a new romantic skating program, everything changes. Will this be the big break that Maddy's been hoping for or the big breakup that Gabe has always feared?
Target: 12 – 18 yo



Download the Park Literary Group Catalogue Automn 2014
A thriller with shocking twists, that explores the damage done when we attempt to encrypt our personal histories.
ANYTHING COULD HAPPEN
by Will Walton
Scholastic, February 2015
With school out for winter break, Tretch Farm is trying to focus on his favorite things: dancing to pop music, reading great books and his best friend, Matt Gooby. But suddenly Tretch can't find the right moves for his favorite song, his attempts to enjoy the bookstore are thwarted by the cashier's obvious and awkward crush on him and all Matt wants to do before the holidays is hang out with their beautiful classmate, Amy Sinks. Tretch is also preoccupied with some big questions: what does
it mean to love someone — and to let someone love you? Finding the answers suddenly becomes more urgent when Matt announces he's moving back to New York City, leaving Tretch to navigate high school, and small town Georgia, alone.
While juggling the usual holiday feasts, not-so-usual rooftop expeditions and late night adventures on his grandparents' farm, Tretch is also trying to figure out how to tell his family, friends — and Matt — that he's gay. Although he might not get all the answers he wants, the Christmas lights are strung up, holiday magic is in the air… and anything could happen.




Download here the Sterling Lord catalogue Kids Autumn 2014
For fans of THE FUTURE OF US comes an engrossing story of two teens, whose love for each other is tested by time and fate
I REMEMBER YOU
by Cathleen Bell
Crown, February 2015
Lucas and Juliet couldn't be more different from each other. But from the moment Lucas sees Juliet, he swears he remembers their first kiss. Their first dance. Their first fight. He even knows what's going to happen between them—not because he can predict the future, but because he claims to have already lived it.

Juliet doesn't know whether to be afraid for herself or for Lucas. As Lucas's memories occur more frequently, they also grow more ominous. All Juliet wants is to keep Lucas safe with her. But how do you hold on to someone you love in the present when they've begun slipping away from you in the future?
.

From the novelist and screenwriter Jennifer Bosworth:
THE KILLING JAR
by Jennifer Bosworth
Farrar, Straus & Giroux, Winter 2016 (Manuscript due December 2014)
It's the best night of Kenna Marsden's life until she comes home to find her family slaughtered and the killer still in the house. Trapped, with death moments away, the killer reveals to Kenna that he didn't choose the Marsdens at random. He came there for her. She's the only one who can save him. But Kenna taps into an uncanny ability lying dormant inside her, and the killer winds up dead, while Kenna's family survives. Kenna's relief at having her family back is marred by the inexplicable, dark impulses that plague her now. Her search for help leads her to Eclipse, a nearby utopian commune. There, Kenna discovers an extraordinary new way of life as she learns who she really is, and the wonders she's capable of. But when she discovers a shocking connection between the unthinkable crime against her family and the commune leaders, Kenna realizes the inhabitants of Eclipse harbor dark secrets about her past, their inception, and their plans for her.

They look so soft and delicate, these beautiful girls from the fancy summer ballet school…
UNLOVELY
by Celeste Conway
F&W Media/Merit Press, January 2015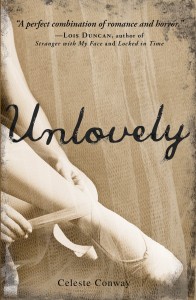 The story is set in a small, seaside town and follows Harley who is back from college for the summer. Instantly, he falls in love with Cassandra who is the newest ballet dancer at the Ocean Watch Academy. His infatuation with the beautiful and innocent girl is a good distraction as Harvey recently found out that his ex, who he still cares deeply about, is pregnant. And the father is not the nicest boy in town.
While Harvey and Cassandra fall in love, a group of ballerinas act violently towards an ex-boyfriend and a male ballerina dancer, but nobody wants to believe that such soft girls are behind some evil acts. When Cassandra gets the role of Giselle, the most important role in the performance, she is advised to not spend any time on boys. Practice is more important. But Harvey has a hard time staying away from Cassandra, which suddenly puts his life in danger…

From the #1 New York Times bestselling author of BEASTLY
MIRRORED
by Alex Flinn
HarperTeen, Fall 2015
Violet is hideous. That's all there is too it. Smart, as if it matters, but hideous and hated. The only one who can stand her at all is Greg, a shy boy, who meets her because of her mysterious gift of healing. The two become fast friends. Violet hopes for more, but when teen years hit and Greg comes into his own beauty, he rejects Violet. Spurned, she meets a mysterious woman, Kendra, a witch who tells her about her own powers and gives her a magic mirror. She is especially gifted at controlling animals, getting them to carry out her will. Also, she makes herself beautiful.
Beauty becomes her obsession. But beauty does not get Greg back. Celine, Violet's new stepmother, is not happy at all and despises her. That much is obvious. Perhaps it's because she reminds Violet of her mother, though she resembles her father, with raven-black hair and skin of porcelain. When her father is suddenly killed in an accident, Violet is devastated. She devotes herself to her beauty and in pursuing Celine. Violet means to be the fairest, at whatever cost.

A riveting psychological thriller for Young Adult
I AM ON FIRE AND HAVE DANGEROUS CARGO
by Laura McNeal
Knopf Children's Books, Spring 2016 (Manuscript due Spring 2015)
One night in June, a studious 17-year-old girl disappears from the apex of the Coronado-San Diego Bay Bridge, third in North America for its suicide rate. The police can only assume Thisbe jumped, but her body isn't found the next day, or the next, and Frank Le Stang, who lives alone on his boat beside the bridge, believes Thisbe is the reincarnation of a girl called Julia and thus his only hope for atonement. A psychological thriller about a haunted drifter, a naïve girl, and missed connections, I AM ON FIRE is also a kaleidoscopic version of the Greek myth "Pyramus and Thisbe" set in a world where cell phones become the walls we try to whisper through, and where too much freedom can be as deadly as too little.

The author of THE SILVER LININGS PLAYBOOK is back with what early readers in New York and L.A. are calling the highwater mark of his young adult career
EVERY EXQUISITE THING
by Matthew Quick
Little, Brown Books For Young Readers, Spring 2016 (Manuscript due December 2014)
Meet Nanette O'Hare, an unassuming teen who has been playing the role of dutiful daughter and conscientious student-athlete. When a beloved teacher gives her his dog-eared copy of The Bubblegum Reaper—the mysterious, out-of-print cult-classic—the rebel within Nanette awakens. But she learns there is a high price to pay, as she befriends the reclusive local author, experiments with a young Bukowski-quoting poet, and attempts to insert her true self into the world with wild abandon. A celebration of the self and the formidable power of story, this is Matthew Quick at his finest.
Matthew Quick is the New York Times bestselling author of several novels, including THE SILVER LININGS PLAYBOOK, which was made into an Oscar-winning film. His work has been translated into thirty languages and has received a PEN/Hemingway Award Honorable Mention, among other accolades.

The debut novel by Alison Umminger, an awardwinning short story writer and former president of the Harvard Lampoon
MY FAVORITE MANSON GIRL
by Alison Umminger
Flatiron Books, Winter 2016
This is the present day story of 15-year-old Anna, who finds herself immersed in the world of the Manson Girls—the young women and girls who flocked to Charles Manson in the 1960s and were responsible for some of the most brutal crimes committed at the time in America.With new stepparents, new schools, and the kind of neglect that comes from being left behind when parents choose to start new families, Anna feels detached from her life in Atlanta. Convinced that the summer holds nothing good for her at home, Anna "borrows" her stepmom's credit card and boards a plane to Los Angeles, where her surprised and irritated actress sister takes her in. But LA isn't quite the escape that Anna imagined.
Her parents don't want her back—at least, not immediately—and she has to work to pay off the airline ticket she charged. Her sister's ex-boyfriend, director of an indie film inspired by the Manson Family murders, hires her to research the Manson girls. As Anna enters the eerie world of these girls who ran away from or were pushed away by their own families—and went looking for a new one in the wrong place—she begins to see disturbing parallels in her own life.
In this riveting book, Umminger's skillful use of internal dialogue reveals a psychology of a young girl, which is simultaneously clear and splintered. Written in a fresh and fast-paced style, My Favorite Manson Girl is sure to entertain a wide age group.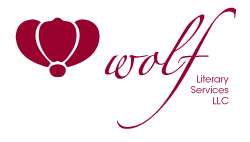 Download the Wolf Literary Catalogue Automn 2014
Amanda Obermann. Code name iris
THE ANNUM GUARD SERIES
by Meredith McCardle
Skyscape
THE EIGHTH GUARDIAN
May 2014

It's Testing Day. The day that comes without warning, the day when all juniors and seniors at The Peel Academy undergo a series of intense physical and psychological tests to see if they're ready to graduate and become government operatives. Amanda and her boyfriend Abe are top students, and they've just endured thirty-six hours of testing. But they're juniors and don't expect to graduate. That'll happen next year, when they plan to join the CIA—together.

But when the graduates are announced, the results are shocking. Amanda has been chosen—the first junior in decades. And she receives the opportunity of a lifetime: to join a secret government organization called the Annum Guard and travel through time to change the course of history. But in order to become the Eighth Guardian in this exclusive group, Amanda must say good-bye to everything—her name, her family, and even Abe—forever.

Who is really behind the Annum Guard? And can she trust them with her life?

BLACKOUT
January 2015

Seventeen-year-old Amanda Obermann (code name: Iris) has more on her mind than usual. As a member of a covert government organization called the Annum Guard, which travels through time to keep history on track, Iris has been getting some particularly stressful assignments. Plus, Jane Bonner, the Guard's iron-fisted new leader, seems determined to make life as hard as possible. Thankfully, Iris has Abe (code name: Blue), her boyfriend and fellow Guardian, who listens to her vent—and helps her cope with her mentally ill mother's increasingly erratic behavior.

When Guardians start to disappear on their assignments, Iris makes a terrifying discovery: a "blackout" squad is targeting anyone who gets in the way of a corrupt force that's selling out both the Annum Guard's missions and Guardian lives. Together, Iris and Blue must go undercover to untangle the Guard's elaborate web of secrets and lies. But when Iris discovers that the terrible truth may involve her own father, a former Guardian undone by his own greed, she must decide how much she's willing to risk to rescue her friends . . . and how dangerous the consequences will be for all of humanity.



Download here the Writers House Children and YA Catalogue Automn 2014
A whimsical tale of a boarding school for children of very busy parents – the beginning of a new series
MS. RAPSCOTT'S GIRLS
by Elise Primavera
Dial (Penguin), March 2015
Nestled inside a lighthouse, the Great Rapscott School is run by the motto "Adventure is worthwhile in itself." Ms. Rapscott, the extraordinary headmistress, couldn't agree more, but her students could use a little convincing. After being shipping to the school in boxes, the students are reluctant to take part in Ms. Rapscott's lessons about courage, adventure, friendship… and the importance of birthday cake. Eventually though, they find the strength and bravery to soar through the sky on their own and get lost on purpose.
MS. RAPSCOTT'S GIRLS is a series, and there will at least be two books to start. The second book will come out in Spring 2016 (one year after book #1), and it will be about the same cast of girls, with some new characters as well.
Elise Primavera is the bestselling author of several picture books and chapter books.

The story of a girl, her gay best friend, and the boy in love with both of them
FANS OF THE IMPOSSIBLE LIFE
by Kate Scelsa
Balzer + Bray (HarperCollins), Fall 2015
Mira is a pessimistic, vintage-dress enthusiast who stopped going to her old school when she and her gay best friend Sebby decided to run away together, just for a little while. Ten months ago they stole her father's car, set the GPS for Provincetown ("the gayest beach town north of Fir e Island") and set off on a two-day adventure with a fateful vow to each other—that life would be different now that they were together. That their friendship would be enough to keep them both safe.
Now Mira's starting over at Saint Francis Prep, where she promised her parents she would try to pretend to be normal, not a girl who sometimes can't get out of bed for days on end, who only feels awake when she's with Sebby. Jeremy is the painfully shy art nerd at Mira's new school who sees Sebby for the first time across the Saint Francis school lawn as if he's been expecting him—a blond, lank y boy with a mischief glinting in his eyes. As Jeremy finds himself drawn into Sebby and Mira's world, he begins to understand the secrets that they hide in order to protect themselves, to keep each other safe from those who don't understand their quest to live for the impossible.


OTHER LISTS:
Penguin for Young Readers Group
—————————-