« Old-school alpinism is the art of survival in a place not fit for humans » Reinhold Messner
ZWISCHEN DURCHKOMMEN UND UMKOMMEN:
(Meeting the Challenge or Meeting One's End)
by Reinhold Messner
Ludwig/Penguin Random House Verlagsgruppe, October 2021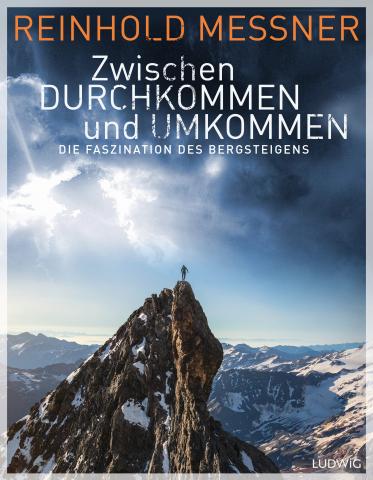 Old-school mountaineers confront the unknown with courage and self-sufficiency. They go where no one else dares to go, and take unbelievable risks. Ever since man first stood on top of Mont Blanc in 1786, they have continuously pushed the boundaries of the supposedly impossible. Reinhold Messner's new book is a memorial to those pioneers, a history of traditional mountaineering told through the stories of its most celebrated heroes, often in their own words. Messner's incisive essays reveal the mental and physical qualities needed to achieve what they did: qualities such as courage and passion, self-reliance in the face of danger, and the ability to focus on important things – and the refusal to use technically sophisticated gear.
In ZWISCHEN DURCHKOMMEN UND UMKOMMEN, Messner pays tribute to the human thirst for adventure and exploration, intimate encounters with nature, and climbing mountains without a safety net or 'false bottoms' – and calls on us to keep the legacy alive.
Reinhold Messner, born in 1944, is the most famous mountaineer and adventurer of our time. He was the first person to reach the top of all fourteen eight-thousanders, as well as the first to climb Everest solo and, together with Peter Habeler, the first to do so without supplemental oxygen. He has also crossed the Antarctic, Greenland and the Gobi desert on foot. He gives talks all over the world, is a documentary filmmaker, contributes to major international magazines, and has published countless books which have been translated into numerous languages. His most recent book was the 2019 « Nanga Parbat – Mein Schlüsselberg » (« Nanga Parbat – Paragon and Nemesis »), published by Ludwig.