This exuberant, tragic memoir of master music producer-engineer Tony Cohen is an extraordinary cultural message in a bottle.
HALF DEAF, COMPLETELY MAD
by Tony Cohen & John Olson
Black Inc., November 2022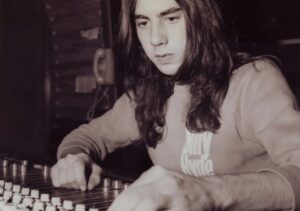 This is a book about making art and the transgressions that might occur in doing so. Tony helped define the sounds of innumerable Australian bands from the 1970s through to the 2000s, and his always entertaining stories are hilarious, incisive and self-deprecating. Tony's work with Nick Cave and his three bands – The Boys Next Door, The Birthday Party, The Bad Seeds – comprises a large part of this memoir. There are also indelible stories of: Chrissy Amphlett/Divinyls, Beasts of Bourbon, Blondie, Cold Chisel, The Cruel Sea, Dirty Three, The Go-Betweens, Hoodoo Gurus, Michael Hutchence, Paul Kelly, Men at Work, Mixed Relations, The Saints, Split Enz … This is vastly entertaining fly-on-the-wall account of a life lived LOUD.
"Like many geniuses, [Tony] was a nightmare to work with. But you came back again and again because he was just so good, everything he did was so unique and bold and startling. He was a master at both what not to do in the studio and what to do in the studio. For example – don't set fire to the studio, don't sleep in the air-conditioning vents, don't not show up to the sessions for days at a time, but conversely – do record music like your very life depended on it, do create sounds that no-one has ever heard before …" —Nick Cave
Tony Cohen was perhaps Australia's most original and influential record producer. He helped define the sounds of innumerable Australian bands (many of whom went on to find new lives in the UK and Europe) from the 1970s through to the 2000s, until his untimely death in August 2017.
John Olson is a producer and engineer, who interviewed Tony Cohen and assembled this account of his life and times.